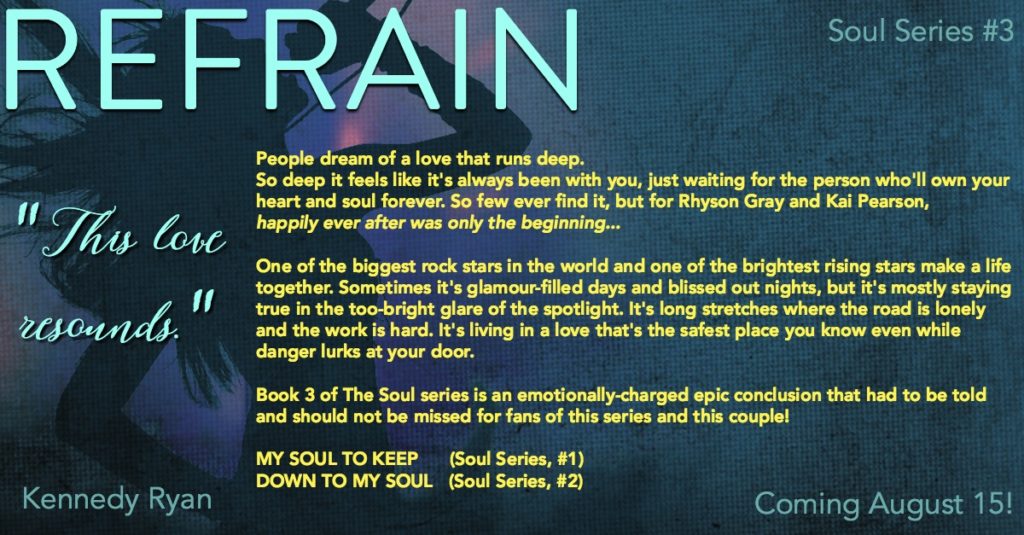 I'm so excited about this highly emotional conclusion to the Soul Series trilogy. Honestly, it started out as a novella because so many readers asked for more Rhys + Kai, but as I started writing, there was so much more to say about their final chapter. Over the course of this journey, these two musicians have gone from strangers to friends. From friends to lovers. From lovers to soulmates. This third installment truly highlights their individual growth, their deepest commitment to one another, and an unwavering love  in the face of unexpected challenges. This installment is not an addendum or an afterthought. For fans of Rhys + Kai, it's a "can't miss!
BLOGGERS! Sign up to be a part of the promotional events or to request an ARC here! If you missed books 1 & 2, you can get 'em here, too!
**If you are a NON-BLOGGING reader, ARCs will be available through my Facebook author page, FB book group and mailing list. Please stay tuned to those platforms, or sign up for the Readers' ARC Lottery!
 Official REFRAIN Blurb!
People dream of a love that runs deep.
So deep it feels like it's always been with you, just waiting for the person who'll own your heart and soul forever.
So few ever find it, but for Rhyson Gray and Kai Pearson, happily ever after was only the beginning…
One of the biggest rock stars in the world and one of the brightest rising stars make a life together. Sometimes it's glamour-filled days and blissed out nights, but it's mostly staying true in the too-bright glare of the spotlight. It's long stretches where the road is lonely and the work is hard. It's living in a love that's the safest place you know even while danger lurks at your door.
Book 3 of The Soul series is an emotionally-charged epic conclusion that had to be told and should not be missed for fans of this series and this couple!
Be notified AS SOON  as REFRAIN goes live!
(this is NOT my mailing list. It's a one-time email specifically regarding this release)
★✩★ SOUL SERIES ★✩★
*** FREE IN KU! ***
**Amazon Top 100 Bestseller**
Add on Goodreads
Book 3,  REFRAIN
GR ➔ http://tinyurl.com/z3m3azp
Book 1, MY SOUL TO KEEP
Amazon: http://myBook.to/MySoulToKeep
Goodreads ➔ bit.ly/1OrzB3r
Book 2, DOWN TO MY SOUL
Amazon: myBook.to/DownToMySoul
GR ➔ http://tinyurl.com/hvyhqaf